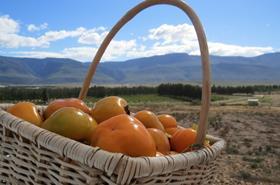 South Africa's Sharon fruit industry has confirmed that the first containers with new season fruit have arrived in Europe, the Middle East and Southeast Asia, while shipments to the Indian Ocean Islands of Mauritius and Reunion are expected to arrive within a week.
The season's estimate has been confirmed at 4,000 tonnes, higher than last year's final volume of 3,500 tonnes.
Hein Smal of MISA (Mor International in South Africa) confirmed that the first containers had been distributed from Rotterdam into Western Europe, with Germany, the biggest market for South African fruit, receiving the lion's share of deliveries.
This weekend also saw the first arrivals of the fruit in the Middle East, as well as Malaysia.
This year, both domestically and internationally, Sharon fruit producers have emphasised the health-giving qualities of the fruit.
"It is known to be high in Vitamin C and other nutrients," noted Smal, "and consumers are looking for these products in the midst of Covid-19."
In 2019 South Africa produced only 3,500 tonnes in what was a difficult season. Although still one of the minor fruits in South Africa, its attractive appearance, sweet taste and high nutritional value has made it popular amongst consumers.
Smal said that while there are a lot of challenges this year, sales so far this season have been going well.
'We had excellent quality from the orchards and we are experiencing good demand for our fruit," he confirmed.
Around 200 containers, which are loaded at Buffeljagsrivier in the Southern Cape, are expected to be shipped from the port of Cape Town this season.
Europe is the biggest marketing region and South African fruit provides an extension of the Northern Hemisphere season.