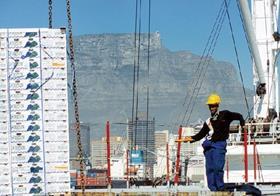 South African fruit industry body Hortgro has said that it hopes to clear up uncertainties following the announcement of the nationwide lockdown in South Africa.
The shutdown was announced on Monday by South Africa's president Cyril Ramaphosa, and is due to start at midnight on Thursday, lasting 21 days.
The move has sparked long queues at retail centres today, and has raised many questions about how business will be affected.
"We are well aware of the questions surrounding ongoing activities on farms, packhouses, and in the logistics system, including transport of product and workers," said Hortgro. "We are trying our best to find answers to the many questions, and will disseminate information and guidelines as soon as we can. For now, we can confirm that the agricultural value chain is classified as a so-called 'essential service'.
"Farms and packhouses will, therefore, be able to continue their activities within the constraints of risk management practices and those products will be able to flow to domestic and foreign markets,' the organisation continued. 'We expect to find answers to certain aspects within the next 48 hours."
The continued transport of workers and inputs, including provisions and authorisations regarding trips to and from workplaces, will be clarified in this regard.
In the meantime, Hortgro said that interested groups were requested to study the guidelines and background documentation on Hortgro's website.

The industry body also advised people in the deciduous fruit industry to stay calm and comply with the guidelines and instructions in the interest of themselves and the wider community.
Fruit South Africa also reacted to the lockdown by pointing out that, with the South African citrus, topfruit and avocado seasons now in full swing and the table grape season into its final two weeks, it was essential for the industry to remain calm and focus on the continuation of business.
"Agricultural operations will continue,' said Fruit South Africa chairman Justin Chadwick. 'It would be wrong to say it is 'business as usual' as we will need to change some of what we do – but operations must continue."