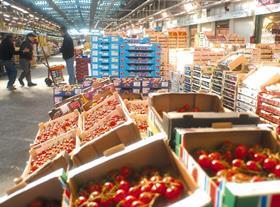 In a virtual ceremony last week, Semmaris, which manages Rungis International Market in Paris and is a global operator of agro-logistical infrastructure, agreed to provide its expertise to the Uzbek Ministry of Agriculture for the creation of a network of wholesale markets in Uzbekistan.
The fully integrated network will be labelled "Rungis International". Through eight modern hubs, Rungis International will be able to handle more than 3m tonnes of goods by 2022.
'The expertise of Semmaris has enabled the Rungis International Market to become a flagship for agro-logistics in France and internationally," said Rungis president Stéphane Layani. "We are very happy to put this know-how to the service of Uzbekistan, which is engaged in an ambitious agricultural development strategy.'
Layani said that the partnership would strengthen the 'already dynamic economic cooperation between our two countries, especially since president Shavkat Mirziyoyev's visit to France in 2018'.
Created in 1965, Paris's Rungis International Market has 1,209 companies, with 2.8m tonnes of products sold each year at a turnover of €9.4bn.