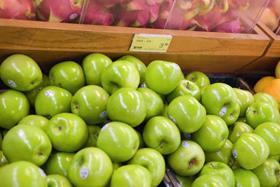 China yesterday implemented a 15 per cent tariff on around US$3bn worth of US products including fresh and dried fruits, nuts, steel, and pork.
The government of President Xi Jinping said it was in response to US president Donald Trump's plan for adding tariffs to US$50bn worth of imports including steel and aluminium from China (and other countries).
White House spokeswoman Sarah Huckabee Sanders said in a statement on Monday that Trump wants to "make sure we're that getting a good deal and we're not taken advantage of anymore."
The list of items includes highly traded US fresh commodities such as walnuts, cherries, apples, grapes, and citrus. It also includes a variety of other popular nuts, peaches, plums, nectarines, berries, pears, watermelons, avocados, bananas, and other exotic fruits.
'The decision by the Chinese government to levy exorbitant tariff increases on US produce will surely have a direct impact on California citrus producers," said California Citrus president, Joel Nelsen in a statement.
US oranges made up 21 per cent of China's imported supply in 2017.
"Family farmers in our industry will suffer from the economic fallout unless we can find alternative markets for California's navel and Valencia oranges and lemons," he said.
Director of international business at Shenzhen Yuanxing Fruit Co, Cobby Lin, said that the increase will raise carton prices by around 20-30RMB.
"It will put US products in a very difficult situation with very competitive market. People might choose local or Spanish navel oranges or even much affordable Egyptian Valencia's instead," said Lin.
The Washington State apple, and northwest cherry industries are concerned about the impacts due to the significance of China as an import market.
CNN reported that one third of Washington State apples are exported to overseas markets, making them "vulnerable to protectionist policies."
Retired professor of agricultural economics, Desmond O'Rourke said that the increase in tariffs could lower the price of apples in the domestic US market and decrease competition in China – who are the largest producer of apples. This could mean more appeal for Chinese grown apples domestically, but lower returns or a smaller market share for Washington State apples.
The full effects of the tariff will become apparent in their next harvest during September/October.
Redirecting sales of fruit to stabilise market changes won't be as easy for Northwest cherry growers, who depend on China's importation. "There is no other market that can take that kind of volume," said Mark Powers, the president of Northwest Horticultural Council.
Cherry imports to China hit US$1.01bn in 2017, at 101,000 tonnes, with 28 per cent of the supply coming from the US and Canada.
"For cherries out of California and Washington State it's not good news either," said Lin. "More and more Chinese cherries are available during the same period of the Californian cherry season. I see less impact on Washington State and Canadian cherries, [but] there will be more fruits shipped by ocean instead of air to avoid the cost increase due to tariffs."
Powers told CNN that it was difficult to predict the impact of the tariffs, but 'either the price to the consumer goes up or the return to the producer goes down.'
The shared hope among trade associations is that each country's government will soon reach a solution with minimal impact for growers.
"[China] indicated last week in a statement that constructive talks could alleviate the real issues. ... Now Chinese consumers and California citrus producers are innocent parties to a trade debate," said Nelsen from California Citrus.
Rural regions of the US are expected to be hit the worst by the tariff changes.
China's Ministry of Commerce said in a statement that it hopes the US will withdraw tariffs "as soon as possible so that the trading of products between China and the United States will return to a normal track."
China's government have been vocal about not wanting to enter a trade war but said that it will take "firm and necessary" defensive measures.
It is expected that they will further retaliate once the Trump administration reveals details of which other industry areas its planned US$50bn tariffs will target. So far steel and aluminium tariffs of 25 and 10 per cent (respectively) have been implemented.