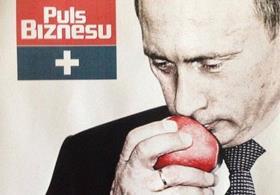 European apple exporters have been capitalising on new commercial opportunities in the Middle East and Asia following the closure of the Russian market back in August.
According to trade sources, importers and buyers from countries including Egypt, UAE and India have found Europe to be a particularly happy hunting ground as far as sourcing new-season apples – especially from Poland, which traditionally sends most of its exported apples to Russia.
Polish exporters have been helped by the presence of a good alternative route to North Africa, the Gulf and beyond via ports including Koper in Slovenia.
What's more, the increasing volume of Polish fruit making its way to customers to the east of the Mediterranean suggesting it could be more than simply a commercial flash in the pan while Russia remains, presumably, temporarily out of reach.
"Exports of Polish apples started booming recently as Koper serves perfectly as an export option for European fresh produce as well," explains Milena Slobko-Jerman of Luka Koper's sales and marketing department. "Good shipping line connections and good transit times to some destinations fit perfectly."
Following a slow start the flow of Polish apples out of Koper appears to have intensified as news of the alternative route became known: by early December around two hundred 40ft containerloads of Polish apples had been loaded on to ships at Koper.
Having started in early September with a few containers a week, by October this had increased to around 20 containers per week. It could have been more, had one major shipping line not found itself temporarily short of containers.
Poland's weakness as far as its place in the international market is concerned is undoubtedly its great dependence on Russia.
Dominik Woźniak, head of one of the country's leading apple exporters Rajpol, is fully aware of the Polish topfruit sector's apparent reluctance to diversify.
"After Poland became a democratic republic in 1989, Russia remained our main client because of the people connections," he explains.
"Exports to Russia were still huge and so our growers became a little bit lazy. Up to one million tonnes of apples to Russia? No problem. But the last few months have shown that Russia won't be there forever."
Heading eastwards
At the same time, Slovenia itself also seems to be winning when it comes to building a market for the fruit in the Middle East, partly because it offers varieties like Royal Gala and Granny Smith that can attract good prices.
Since late 2011, the country's largest topfruit exporter Evrosad has sent apples to Dubai and, with the help of its import partner Marhaba, sold them on to clients in a total of 15 different Middle East countries.
The importance of that new business is huge, according to managing director Bostjan Kozole, even before you factor in Russian import bans and the impact of unexpected weather conditions during production.
"Like everybody in Europe, we have experienced the disruption caused by Russia's ban," he comments. "We had a lot of rain and so the sizes were bigger than usual. This meant we sold less to the UK, although that still remains our biggest market."
In the meantime, he says, results in the Middle East have been steadily improving. "We have slowly but surely built up the quantity and so we're very satisfied."