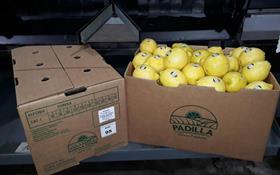 Salix Fruits expects to close the year with a 30 per cent growth in global sales, reflecting its strong performance in Asia, as well as in Latin America and Canada.
The company said its specialisation in lemons (as well as apples) and solid partnerships with lemon growers in Argentina, meant it was positioned to take advantage of new opportunities in the US following the re-opening of that market to Argentine lemons in 2018.
With offices in Atlanta, Philadelphia and Chicago, Salix offers the US market an extended supply of lemons by complementing its Argentine volume with imports from Mexico, Turkey and Spain.
"The quality [of this year's lemon crop] was excellent and we received great feedback from our customers, who perceive us as a lemon specialist – and never more so, of course, than when it comes to Argentina," said sales manager Juana Elortondo.
Regarding the season, Elortondo noted: "it was complex in terms of prices because California responded with more fruit than expected, which had an impact, to a certain degree, on the sale of Argentine lemons.
"However, we managed to deliver volumes in excess of market expectations, based on our structure and operational efficiencies."
Salix is due to conclude its Argentine lemon season at the end of August, and is already preparing for the start of the Mexican, and then Turkish campaigns.
The season will then continue with Spanish lemons, which will satisfy market demand until the new spring 2020 crop begins in Argentina.
In the coming years, Salix believes that Turkey, in particular, presents strong potential as a strategic supply source for the North American market.
Looking ahead, Salix is in the midst of developing its own online market channel. This represents an important objective for the company, and one that comes in response to the high demand for e-commerce today.
Founded in 2013 by Juan González and Luis Elortondo, Salix offers a portfolio of more than 25 produce items, with a particular emphasis on apples, lemons, oranges, mandarins, pears and table grapes.
The company works with more than 80 producers in 18 countries, and services 400 customers in 57 countries.