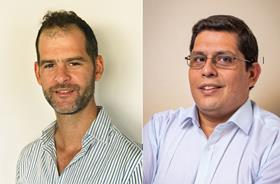 Salix Fruits has announced two new key positions to support its global expansion. Maximiliano Guevara Inostroza will be the new country mManager for Chile and Fernando Moyano joins the team as sales manager for Europe and Russia.
Guevara has almost two decades of experience in commercial, technical, and management roles in companies such as CapeFive, Capespan, and El Maitenal.
In his new role he will oversee the growth and development of businesses in the country, expanding the producer base, and managing the supply strategy for the territory.
Moyano joins the company after serving as commercial manager for Europe at Kepple for the last eight years. In his new role he will seek to consolidate the position of the company and will be in charge of managing a key business for Salix, especially in the Southern Hemisphere season.
'We are proud to continue growing as a team in such a special year,' said Alejandro Moralejo, CEO of Salix Fruits: 'Maximiliano and Fernando are the right people to join the company and continue to expand our market with the commitment and honesty that's our benchmark."