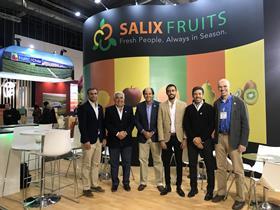 Salix Fruits has announced the start of the lemon season in Argentina, the leading global supplier in the off-season.
The company said its programmes remain on track in spite of the many challenges thrown up by the coronavirus pandemic, such as mandatory quarantines and delays at ports and with internal logistics, which until now have only brought delays in fruit loaded at the end of March.
Regarding the season, the spring weather and the dry summer benefited the quality of the lemons this year and the rains of the last weeks of the summer allowed the fruit to grow to achieve an optimal size.
'The quality and size of lemons this year is very good and we are already starting with the first shipments to the US, Russia and Canada' said sales manager Juana Elortondo.
'We are proud of the leadership position we have reached as a lemon specialist and no more so, of course, than when it comes to Argentina."
Official estimates peg the Argentine export crop at approximately 300,000 tonnes this year, equivalent to 20m (18kg) cartons. Salix Fruits anticipates delivering around 700,000 cartons. Fresh lemons, along with apples, are one of the company's main product lines and helped lift its global sales by 15 per cent last year.
Most Argentine lemons come from the NOA region (Tucumán and Salta), which has seen significant investments in recent years and is home to a highly productive industry.
Around 75 per cent of the country's export volume goes to Europe and Russia. The US –a growing market –accounts for a further 10-15 per cent, while the rest is shipped to Canada and Asia.
'The US, Russia and Canada are our main markets for Argentine lemons and we are one of the main importers of this product in the US,' said Elortondo.