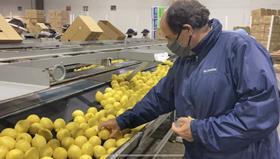 Salix Fruits has fired the starting gun on its 2021 Argentine lemon season, with quality reported to be "optimal" following the dry summer.
The first consignments have already been shipped to North America, Russia, the Middle East and Asia. The first US-bound containers are due to arrive in the port of Philadelphia during the second week of May.
CEO Alejandro Moralejo said the latest wave of coronavirus sweeping through Argentina had not caused any problems as the company was more prepared to deal with the effects of the pandemic than last year.
'This new peak in Argentina has not yet generated generalised inconveniences in agricultural production or ports', he told Fruitnet.
'All the same, this resurgence of coronavirus cases is a threat to harvesting, packing, and ports operations. That is why all these activities are ensuring that the protocols established to allow normal operations are respected."
Argentina is the Southern Hemisphere's biggest lemon supplier in the off-season, but at present export volumes are lower than usual due to bad weather and recent rains, Moralejo noted.
Exports to the European Union, which had been suspended since July last year, have now been given the green light. 'The different actors in the sector are waiting for the implementation of the protocols by the Argentine Phytosanitary Authority to be able to start operations," said Moralejo.
The US, Russia, Canada and Europe are Salix Fruits' main markets for Argentine lemons. This year the company plans to increase shipments to the Middle East, and will carry out its first Argentine lemon exports to China.
Following a year of rapid growth in which it doubled its sales and opened a new office in Chile, Salix Fruits said 2021 would be a year of "stabilisation and consolidation".
The company recently launched a new app allowing customers and producers to keep track of its fruit offer from their mobile phones, with images, origin and price, among other functionalities.
It is part of the company's wider strategy to create a digital fruit marketplace that is not only simple for users but also allows them to have all the documentation of the operation and know the status of the online order.