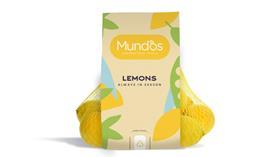 Salix Fruits has launched a new brand for mandarins and lemons for the North American market to take advantage of the growing demand for citrus since the onset of Covid.
Mundos, which will be officially unveiled at this week's Southern Exposure produce show in Orlando, Florida, comprises bags of Moroccan and Peruvian-grown mandarins and lemons from Argentina, Mexico, Turkey and Spain.
"Covid affected most industries, but in the case of mandarins and lemons, and thanks to the health benefits of citrus fruits, it placed them in a privileged place in the market," the company said.
"The impact of the pandemic on consumption habits increased global demand for this product and its leadership in the agri-export basket was consolidated."
Peru is the leading exporter of mandarins in Latin America, thanks to the popularity of its satsuma, clementine and Murcotts varieties, the latter two being highly valued for their colour and for being seedless.
Demand for Moroccan citrus in the US is also growing noticeably. Salix completes its year-round supply of mandarins with easy-to-peel fruit out of this origin.
Having finished with earlier varieties, Salix is currently packing Nadorcott mandarins in Mundos bags and distributing them to customers throughout the US.
Regarding lemons, Argentina is one of the largest producers in the world. Mexico has also become increasingly important with the supply of lemons into the US.
Turkish lemons have gained popularity in the past years, and the Mediterranean coast of Spain has become the main production area. With these origins, Salix is able to guarantee the supply of this gold citrus during the 12 months of the year.
Juana Elortondo, sales manager for the US, said: "Salix manages to take a step further in the supply chain, reaching the final consumer with its own brand, through supermarkets.
"Handling the bagging process directly, Salix also manages to ensure a quality standard that highlights the Mundos brand and satisfies any consumer'.
Salix said it hopes its Mundos bags will provide a better option of value and quality to supermarkets and consumers.
'We plan to supply Mundos bags to our customers continuously, throughout the year, with citrus from different origins, maintaining quality and a competitive price," said Elortondo.
'In addition to our outstanding service, Salix hopes to generate value and continue growing as a citrus leader in the US."