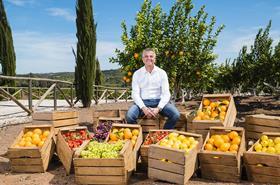 The coronavirus pandemic has given greater visibility to the essential work carried out by the agricultural sector, according to the founder and owner of SanLucar.
Stephan Rötzer notes that since the beginning of the coronavirus crisis, the company has worked with even more passion than ever before to provide society with fresh fruit and vegetables.
SanLucar, which has a strong presence on the German and Austrian markets, has managed to distribute almost 5,200 tonnes of fruit and vegetables every week during the pandemic thanks to its strong focus on digitisation, as well as the efforts made throughout the supply chain, Rötzer says.
'There are many challenges we are facing every day due to the global health crisis. Nevertheless, the strong commitment to our work has led us and the whole agricultural sector to try harder to continue supplying the population with staple foods such as fresh products," he tells Fruitnet.
Every government in the world has highlighted the crucial role of the agri-food sector, especially in times of emergency such as these.
'The importance of agriculture is not new to society,' affirms Rötzer, 'but what the pandemic has shown is that taking care of agriculture means to look after us, and this is what is really essential."
After the first phase of the Covid-19 crisis, when demand for food skyrocketed due to the uncertainty of the evolution of the pandemic, SanLucar is now focusing on the upcoming crop.
'The stone fruit season is about to start, and there will probably be new challenges to overcome," says Rötzer.
"One of the biggest will be to identify the future behaviour of consumers. We will have to be able to create new routines regarding the culture of purchase and product distribution."