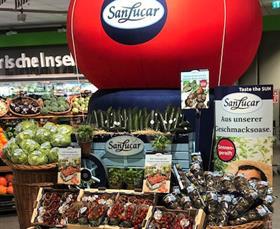 SanLucar has launched a new tomato for the German market. Blacky is characterised by its fruity, fresh, and intense aroma, dark colouring and unique shape.
It is grown in the coastal region of Andalusia and are available from November to mid-May.
SanLucar said the region provides "the perfect combination of mineral-rich and saline water together with soil that has been specially selected for cultivation, creating the unique taste of Blacky tomatoes, a taste characterised by a high Brix value, from which the tomatoes get their sweetness".
Larger sizes are loosely packed in a 3kg box. The tomatoes also come in a 400g cardboard tray with flowpack that protects the fruit and maintains its aroma.
SanLucar is supporting Blacky's launch with promotional materials and secondary displays at the point of sale.