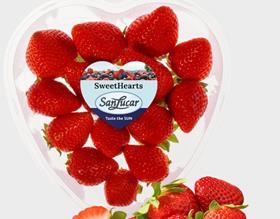 SanLucar is to launch a heart-shaped strawberry pack in Germany and Austria in time for Valentine's Day on 14 February.
The company said the 300g packs, filled with sweet and juicy strawberries, make an ideal gift to seduce fruit lovers and provide retailers with "a perfect opportunity to differentiate at the point of sale and build secondary placements together with chocolate, champagne, flowers or delicious cake base".
"The intense red colour and sweet aroma of SanLucar strawberries will conquer the fruit and vegetable sections of supermarkets," the company said in a press release.
"Tradition and experience allow to harvest the sweetest varieties, only when they are at the right point of ripeness.
"Once harvested, the SanLucar strawberries are gently placed into the charming heart-shaped packaging, where they stay protected and fresh for a longer period."