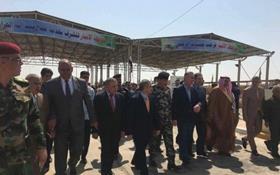 Saudi Arabia and Iraq plan to open the Arar border crossing to recommence trade between the two countries for the first time in 27 years, according to a report by Middle East Monitor citing unnamed Saudi sources.
The border, which connects northern Saudi Arabia with southern Iraq, was closed in 1990 after the countries cut ties following Saddam Hussein's invasion of Kuwait.
Iraq's governor for the southwestern Anbar province, Sohaib al-Rawi, revealed that the government had deployed troops to protect the desert route leading to Arar, describing the opening as a "significant move" to boost ties.
"This is a great start for further future cooperation between Iraq and Saudi Arabia," he said.
The news comes following this week's decision by the Saudi cabinet to establish a joint trade commission with Iraq.
Both Saudi Arabia and the UAE appear to be seeking closer ties with their northern neighbour as a means of curbing the influence of Iran.
The influential Iraqi Shi'ite cleric, Moqtada al Sadr, reportedly held talks with Saudi's crown princes that resulted in a deal for Saudi Arabia to donate US$10m in aid to Iraq's government, as well as investigating the possibility of investing in Shi'ite regions in southern Iraq.