Newtec's automatic packing line combines high speed and weighing accuracy with gentle product handling
Newtec, the Danish manufacturer of weighing, packing and sorting machinery for the fruit and vegetable industry, has installed a customised automated packing line for Scandinavia's biggest cherry producer, Danfrugt Skælskør.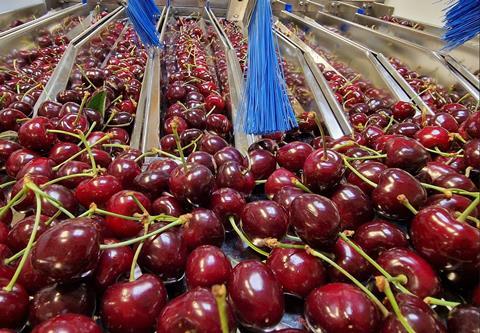 Newtec said this latest collaboration demonstrates that its weighing and packing solutions can address challenges related to product fragility and meet the client's requirements for gentle and accurate operations.
Danfrugt Skælskør employs more than 200 people and produces and distributes cherries in 300g clamshell punnets. Newtec said its solution combines high speed and weighing accuracy with gentle product handling.
It has installed a model h3009MD weighing machine, the Newtec Portion Collecting System, model 2CC, and the Newtec Packing Machine, model NBM-2QC with two filling stations, for the accurate weighing and packing of cherries.
Danfrugt Skælskør CEO Anders Piper commented: "cherries are difficult to handle because they are at risk of being bruised. We specifically chose Newtec's weighing/packing line because extra product care is taken on every step of the weighing/packing process to eliminate mechanical injuries".
Newtec said its automated processes have improved capacity, speed and accuracy, therefore minimising the possibility of human error and enhancing production while saving product, money and energy.
"It is important to us that our handpicked, high-quality cherries are handled gently and yet efficiently on Newtec's machines, enabling us to get our fresh cherries weighed, packed and delivered as quickly as possible to ensure a long product shelf- life," Piper said.
More specifically, Newtec said its solution achieves excellent product care and boosted production through an efficient portion collecting system, model 2CC, whose tilted sides allow for a soft landing on the cross conveyor.
"An additional and customised feature is the special cherry kit, which guarantees appropriate handling of sensitive cherries and prevents them from getting damaged or their stems from getting stuck throughout the process," it said.
"To prevent bruising, the cherries are only exposed to low drops. In addition, V-shaped weight heads offer extra protection against damage. Side guards and flights make sure that the cherries stay in the punnets.
According to Piper: "With Newtec's weighing/packing solution for our valuable cherries, we ensure that our high-quality requirements are met with gentle handling of our fragile berries, accurate weighing in 300g clamshell punnets and a high capacity."
Piper concludes: "By having an integrated solution that automatically weighs portions and packs them into punnets, we can with one or two employees make 40-45 punnets per minute/person, where before we could make five to ten punnets per minute/ person."