Late season and port strike combine to disrupt normal blueberry exports from South Africa
South African berry exporters association Berries ZA has said that the livelihood of 30,000 workers are threatened by a port worker strike which started yesterday (6 October).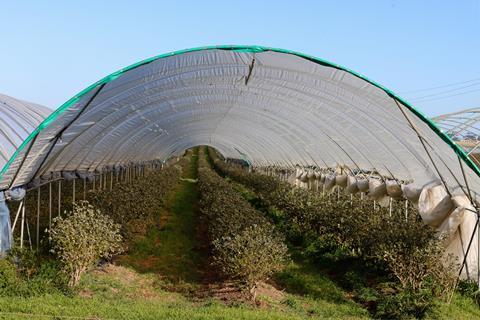 As a result of the strike, the port authority in South Africa has declared a force majeure across all of the country's ports.
This is a further blow for berry producers and exporters already struggling with the effects of a late season.
Due to this, the peak marketing season will now shift to November and December, instead of September to October.
Berries ZA chairperson Justin Mudge said that the association had written to key national ministers and the Transnet executive to request their "urgent and forceful intervention" in the strike.
"The open-ended strike is occurring during the peak of the berry export season, which means even a single day of ports not operating will have a significant knock-on effect on the entire berry value chain," Mudge explained.
"This will put 30,000 livelihoods who depend on the industry at risk as well as millions of rand in export revenue."
The industry has already been severely impacted by ongoing operational issues at the country's ports because of aging and out of service infrastructure, inefficient systems and staff shortages.
"Delayed shipments, because of the poor port performance, has affected the quality of berries that reach international markets, resulting in product rejection rates from receiving clients skyrocketing to an unprecedented quarter of a billion rand last year," Mudge confirmed.
Media sources were informed that the berry industry had spent the last week in Madrid reassuring customers that it would deliver on its commitments.
"This is hugely damaging to the image of South Africa as reliable suppliers to the worlds markets," he said, adding that the problems had been compounded by a surge in input costs, including a hike in fertiliser and fuel prices as well as soaring freight rates.
"As a result, more than a third of local berry producers are currently not profitable, which means their survival and the livelihoods they support are under severe threat. The latest strike could be the final nail in the coffin for berry farmers who fill a critical gap in the labour sector, due to their harvest season running from September to November before the early stone fruit and table grape harvest season commences."
For the industry, this further setback comes at a time when the country is still expected to ship around 25,000 tonnes of fruit, which would be a record volume.
Berries ZA also noted that growth in the industry was likely to continue in future, reaching 50,000 tonnes by 2030.
The association said that Transnet had been engaging with the industry over the past three days regarding their negotiations with United National Transport Union (UNTU) and the South African Transport and Allied Workers' Union (SATAWU), and reassured that the situation was under control.
However, UNTU and SATAWU's decision to embark on a strike and Transnet declaring a force majeure clearly shows that the ports authority is not in control of the situation, inexplicably providing no indication of when this current impasse will end or detailing contingency plans.
The problems with Berry exports do not auger well for the start of the new stonefruit season, which is due to get underway in October, as well as the upcoming table grape season.
Both industries have suffered because of logistical problems in the country's ports, and further instability is clearly not what they would want.