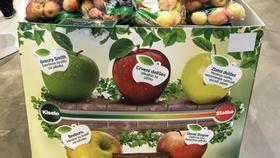 Serbia's apple exports to Russia have reportedly resumed after the outbreak of war in Ukraine led to truckloads of the fruit being held up at the Russian border.
Gojko Zagorac, president of trade association Serbia Does Apples and development director at producer-exporter Verda Vivo, told Fruitnet that consignments had started to move again on Monday 1 March.
All of the trucks carrying Serbian apples to receivers in Russia are now taking a slightly different route to usual, one that takes them via Belarus.
Serbia's dependence on the Russian market for its fresh produce export earnings remains high, and unlike other countries in Europe it is not subject to the trade embargo imposed by Moscow in 2014.
Along with Belarus, Serbia is the only country in Europe that has not imposed sanctions on Russian organisations and individuals in the wake of its invasion of Ukraine.