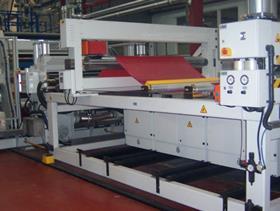 Sharp Interpack (Sharpak), the leading designer and manufacturer of thermoformed packaging for food and non-food, has announced that it has launched a new system for processing post-consumer PET from hot caustic wash plants, ready to extrude and form into direct food contact trays.
The move, a first in the UK, eliminates the need for super-cleaning or the use of a virgin capping layer, with up to 100 per cent recycled contact PET sheets produced.
The technology, which is in place at the group's Bridgwater site, is the result of a £3m (€3.3m) investment and increases capacity potential to over 25,000 tonnes of material produced per year.
'Giving a gross output of 1,500kg per hour, the line will produce sheets from 150 micron to 1.2mm in thickness, all controlled with the latest die technology,' said Frank Coleman, site director at the Bridgwater facility.
The group said that the packaging retained traditional APET qualities in terms of clarity and pack integrity, providing both robustness and protection for the food contained.