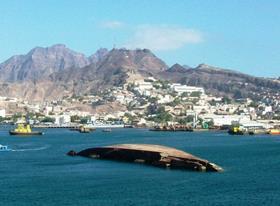 The intensifying conflagration in Yemen has convinced major international shipping lines, concerned about the risk to their vessels, to reduce or suspend calls to the country's ports, according to a report from Arab News.
Saudi airstrikes targeting rebel Houthi fighters have been devastating, contributing to severe shortages of clean water, electricity and petrol across the country.
Saudi Arabia and its Sunni Arab allies have been bombing Yemen for the last two weeks to curtail the progress of Houthi militias which, according to unverified Saudi claims, are allied with Iran.
According to the United Nations, the conflict has killed 600 people, wounded 2,200 and displaced 100,000 others since the Houthis seized the capital Sana'a last September.
Maersk Line revealed that it had suspended all calls to Yemen, while MSC stated that it had diverted vessels to alternative ports in the region.
CMA CGM announced that would not be making direct port calls to Yemen, but instead booking slots on other vessels continuing to call at Hodaida.
Nabeel Hourieh of Gulf-based United Arab Shipping Company (UASC) told Eurofruit: "Due to the ongoing instability in Yemen and in order to protect our customers' interests, UASC has suspended all cargo bookings into Yemen, effective 3 April 2015. UASC is closely evaluating the situation and will advise its customers of any updates as they happen."