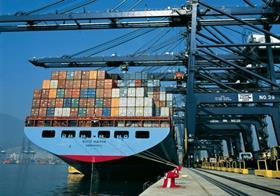 AP Møller Mærsk has announced that it delivered a profit of US$3.8bn for the full year of 2013, slightly higher than its most recent outlook of US$3.5bn but down 6.6 per cent on the US$4.04bn it delivered in 2012.
In its annual report, the logistics and energy giant said that revenues fell 4 per cent year on year, from US$49.49bn in 2012 to US$47.39bn.
However, the group's shipping segment, Maersk Line, improved its profitability in what was described as a tough market.
Maersk Line's profit growth – up to US$1.5bn from US$461m the previous year – was attributed to vessel network efficiencies leading to lower unit costs.
​'We have reason to be pleased with profit development in 2013,' said company CEO Nils Andersen. 'The Group reached US$4.0bn in underlying earnings; an increase of US$1bn from the previous year.
'Maersk Line strengthened profitability despite challenging shipping markets and both APM Terminals and Maersk Drilling had their best result to date,' he added. 'Most of the Group's other businesses also improved results and in total six out of eight businesses came out of 2013 as top quartile performers in their industry.'