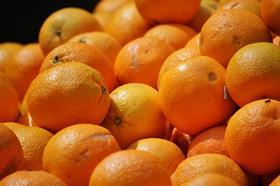 The World Citrus Organisation (WCO) Secretariat has released its first crop production forecast for the 2020/21 Northern Hemisphere citrus season, collected from industry associations in Egypt, Greece, Israel, Italy, Morocco, Spain, Tunisia, Turkey and the US.
The preliminary forecast shows that the crop is expected to reach 28.74m tonnes, a slight year-on-year decrease of 1 per cent when compared with 2019/20.
According to the WCO, the lower volume is the result of alternance in some countries compared with last year, as well as the impact of droughts recorded in several production regions in the Northern Hemisphere.
Most categories are expected to see falls in production on the previous campaign – orange volumes are expected to fall by 2 per cent, lemons by 7 per cent and grapefruit by 9 per cent.
The only category seeing volume growth is soft citrus, with the Northern Hemisphere crop set to rise by 5 per cent.
By region, European production is forecast to experience an increase in volume, with 12 per cent growth predicted for both Italy and Spain respectively, and a 1 per cent decrease for Greece.
In the southern rim of the Mediterranean, crop forecasts for Egypt (-8 per cent), Israel (-4 per cent) and Turkey (-15 per cent) are down on 2019/20, while Morocco and Tunisia are anticipating increases of 13 per cent and 20 per cent respectively.
US production is expected to fall by 9 per cent, with California lowering its forecast by 5 per cent and Florida by 14 per cent.
The WCO will present the forecast during the first edition of the Global Citrus Congress tomorrow (5 November), which the World Citrus Organisation has co-organised with Fruitnet.
The Congress, with an expected attendance of more than 1,000 delegates, will be the perfect opportunity to presents these latest global production figures and trade trends, as well as the importance of sustainability in citrus production and of nutrition and promotion to increase global citrus consumption.
2020/21 Northern Hemisphere citrus forecast:
Total Production
2020/21 forecast: 28.47m tonnes
2019/20 volume: 29.03m tonnes
Change: -1 per cent
Oranges
2020/21 forecast: 16.08m tonnes
2019/20 volume: 16.39m tonnes
Change: -2 per cent
Soft citrus
2020/21 forecast: 8.03m tonnes
2019/20 volume: 7.63m tonnes
Change: +5 per cent
Lemons
2020/21 forecast: 3.84m tonnes
2019/20 volume: 4.14m tonnes
Change: -7 per cent
Grapefruit
2020/21 forecast: 787,991 tonnes
2019/20 volume: 867,355 tonnes
Change: -9 per cent