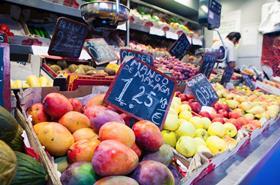 The January-November period of 2021 saw Spain's fresh fruit and vegetable exports grow 3 per cent, according to new figures from the country's Department of Customs and Special Taxes.
This year-on-year rise saw export volumes stand at 11.9m tonnes, while in value terms exports rose by 6.3 per cent to just over €14bn.
Sales of Spanish vegetables stood at 5m tonnes, 2 per cent more than in the same period of the previous year, for a value of €5.73bn, up 7 per cent.
Fruit volumes came in at 6.9m tonnes or 4 per cent higher, at a value of €8.3bn, Fepex reported.

The country's fresh produce imports were up 6 per cent in value to 3.2m tonnes, and also grew in value by 4 per cent to €2.96bn.
Vegetable imports were recorded at 1.4m tonnes, an increase of 1.8 per cent, with value falling 2.5 per cent to €788m – attributed to a decline in the two vegetables most imported by Spain, potatoes and green beans.
Imports of fruit jumped 9.5 per cent to 1.8m tonnes, valued at €2.17bn, up 6.7 per cent.
Fepex noted that while fresh fruit and vegetable exports 'remained the engine of economic growth and generator of employment', the growth of imports was greater than that of sales abroad, reinforcing a trend towards the globalisation of the national market.