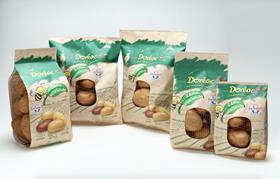 Sorma Group has announced the introduction of new fruit and vegetable packaging that is 100 per cent paper-based and completely recyclable.
The new range, which will be available commercially by the end of 2020, boasts an 'innovative and distinctive component' compared to those currently available on the market – namely a window made of a cellulose mesh, which enables the product inside to 'breathe', prolonging its shelf-life and ensuring excellent visibility.
"With this new packaging line we are enhancing and completing our range with a focus on environmental sustainability and we are meeting the demands of consumers who are paying increasing attention to this issue,' outlined Andrea Casali, sales director for Italy at Sorma Group.
'Indeed, we have been constantly moving in this direction for several years,' Casali continued, 'from the single-material recyclable plastic line, which we have gradually made 60-70 per cent lighter, to the innovative Sormapeel line that we patented and launched on the market at the start of this year, which is revolutionary in terms of the way it integrates plastic and paper, offering a high-performance, robust and functional design, and finally the packaging made of 100 per cent compostable material introduced last autumn."
Sorma Group's paper packaging will be available in five models: 'PaperPillow' with or without a finger grip, 'PaperStandup' with or without a handle, and 'PaperVertbag'.
Each version is made of 100 per cent paper certified by the Forest Stewardship Council and features a cellulose viscose mesh window, an opening allows the product to breathe and enables consumers to check its quality.
According to Sorma, a further key advantage is the new material's adaptability to packaging machines.
It will be possible to use the paper on the SBU model of Sorma packaging machines, which is already widely used, by applying a simple kit, therefore without the need to purchase special paper processing machines, resulting in 'significant cost savings'.
"We have already started the first tests on our new packs and the results have been extremely positive,' Casali explained. 'Specifically, we have introduced the paper line on the French market, which is one of the most receptive and discerning with regards to recyclable paper solutions, and conducted tests in Italy, including with the Bologna-based company Romagnoli F.lli, one of the main Italian companies operating in the processing and marketing of fruit and vegetables, especially potatoes and onions, which has always been committed to sustainability issues.
'The aim is to ensure optimal service for all companies in the industry and retail chains that intend to invest in innovative, advantageous packaging, in all the group's target countries,' Casali added.
Enjoyed this free article from Eurofruit Magazine and its team of editors? Don't miss out on even more in-depth analysis, plus all the latest news from the fresh produce business. Subscribe now toEurofruit Magazine.