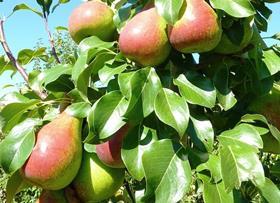 South African pears have been given the green light by the Chinese authorities following the signing of a new export protocol after years of negotiations.
The announcement comes just in time to raise hopes that South African growers will be able to take advantage of the new deal this year. The new harvesting season will start within the next two weeks.
Although there are still several issues to resolve before shipments can get underway, growers are said to be pleased that the protocol has finally been signed. Like so many other trade issues, the negotiations have been severely disrupted by Covid.
"We are cautiously optimistic about the positive impact that additional sales into China will have on our growers," said Tru-Cape managing director Roelf Pienaar. "We saw good growth in apple sales to China despite a slow start. We expect pears to follow a similar trajectory but within a shorter period of time."
Hortgro's Jacques du Preez previously stated that the signing protocol was expected before the start of the new season. "We are very excited about the increase of our apple sales in China last season, which just about doubled," he said.
He indicated that the entry for pears into China, along with increased sales of apples, will mean that South Africa can now significantly increase its apple and pear sales into the Far East and Southeast Asia.
Du Preez also indicated that South Africa is on the brink of signing new entry agreements with India. This mainly concerns the allowance for in-transit phyto sterri measures which will shorten delivery times significantly. This alone will make shipments to India much more attractive to South African shippers.
Meanwhile, South African apple sources said that they expect to harvest more of the new generation fully red Gala types to China this season.
"Even before trade with China was approved, Tru-Cape projected that China could become an important destination for South African pears," Pienaar said.
"I think the benefit of the last few years of exporting apples to China will definitely speed things up as we understand the Chinese market better and have built on existing relationships with certain Chinese retailers."
The Far East and South East Asia are already South Africa's biggest apple sales regions – with all efforts in recent times being focused on varieties, appearance and tastes which will suit the Chinese consumers.
In terms of pears, South Africa has a range of varieties, mainly green and blushed varieties which are expected to be part of initial shipments.