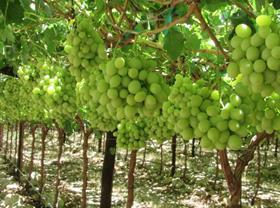 The South African Table Grape Industry (SATI) is expected to release a new crop estimate soon, with growers in the various production regions still confident of harvesting an excellent crop.
A late start and other challenges have somewhat disrupted in the momentum at the start of the season, however.
At the same time, SATI's new chief executive, AJ Griesel, has taken over from Willem Bestbier, who announced last year that he would be retiring from the role. Bestbier finally leaves the organisation at the end of February.
There is also a further change at SATI, with Clayton Swart, manager communication and market development, announcing that he will leave the organisation at the end of the month.
Swart is re-locating to Europe where he will be joining a publications and media company.
Mixed bag
The season so far has been a mixed bag of fortunes. Good crops and excellent quality have been hindered by logistical and other challenges.
"We are faced with the same global logistical challenges of container shortages, huge increases in surcharges, turnaround times in ports,' SATI told Fruitnet. 'Unfortunately, there were delays in the Port of Cape Town due to a confluence of events, including strong winds, power outages and other operational shortcomings.'
SATI said the current 2021/22 table grape harvest was going as planned, although it started a bit later than last year due to cooler spring and early summer weather.
"The quality of grapes in terms of overall condition is very satisfactory, with good eating quality. Exports to key markets are in line with previous years."
Regional outlooks
The earliest region, the Northern Provinces, is now well past the middle of its season. "They have developed and adapted their growing methods in a traditionally summer rainfall area and will likely reach the lower range of the first crop estimate,' SATI continued.
Growers in the region have said that the total harvest may fall short of the 8m mark.
The Orange River region is now in its peak packing weeks. "While the Orange River is flowing strongly it did not affect the harvesting,' SATI said.
'On the back of the SATI China Market Development campaign that got off to a good start last year, exporters are keen to increase volumes to the East. Importers in China are equally excited about the continued campaign and increased volumes."
Harvesting in the later Berg River region and the Hex River Valley has also started. It is expected that much of the grapes for the Chinese campaign will come from this region.
Swart confirmed that preparations for the campaign in China are well along the way. He noted that although he would be leaving SATI at the end of the month, he would still be involved with the China promotions during February.