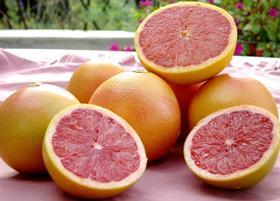 Predictions of a record South African grapefruit export crop have made way for lower forecasts one month after the start of the season.
The country's Grapefruit Focus Group, which regularly reviews events during the season, has announced that the country is now expected to ship 14.6m cartons compared with last year's 16.1m cartons.
The original estimate predicted an export volume of 16.7m cartons, meaning the estimate has dropped by more than 2m cartons, or around 12 per cent.

The overall citrus crop forecast will also be reduced from 143.9m cartons to just over 141m cartons.
So far this season the South African citrus industry has been boosted by reports of high demand, in particular in Europe, for its citrus categories.
This has resulted in high prices for lemons, while grapefruit growers had been hoping that this trend would also benefit them.
Logistics service providers have said that in general shipments of citrus to Western Europe have been up so far this year, due to high demand as well as an earlier season which allowed growers to ship earlier.
The reduction in the grapefruit forecast, which has not been explained by the Citrus Growers Association (CGA), is perhaps the first sign that strong demand across all citrus categories may not continue.
The availability of containers for fruit exports is now much better than in April after the arrival of various shipments at South African ports.
Operations in the East coast ports are also now much improved, although the port of Cape Town remains a problem.
The CGA has warned exporters that container terminal operations can potentially be impacted at any given time, depending on the level of Covid-19 cases detected.
"Exporters of citrus need to be mindful that disruptions to terminal operations can erupt at any time until the end of the Covid-19 pandemic,' the group stated.
There is still much uncertainty in shipping from South African ports, with logistics service providers saying that due to delays in Cape Town, vessels often pass the port to maintain their schedules.
"If it is a vessel to Canada, you may wait 14 days for the next opportunity to ship from Cape Town," they pointed out.

The situation last week at the Cape Town Container Terminal, for example, saw seven vessels at anchorage with four EU/UK vessels in the port, namely America, Europe, MSC Vita and MOL Presence.
The CGA said that those exporters that have committed to breakbulk reefer shipping to the EU, the UK and Russia seem to be in a good position to supply citrus to these key markets.
In some circles, greater use of conventional reefers has been promoted as a solution to current problems.
People with much experience in the shipping business have said, however, that there is not enough capacity in conventional reefer shipping to become a realistic alternative for container vessels.
"One may be able to use conventional reefers to certain limited destinations, but one container vessel in one week can carry five to six times more pallets than four of five reefers,' explained one source. 'What is more, is that these containers can be delivered door to door and this really put the matter into perspective.'