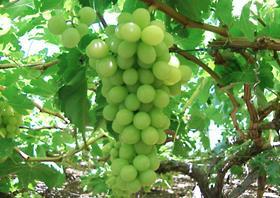 South African fruit exporters with pending fruit shipments to China are nervously watching from the sidelines as the Coronavirus spread plays itself out in.
Exporters of table grapes, which are now in their peak shipment period, are concerned that uncertainty and lack of demand once the fruit is distributed may affect them adversely.
It is not only the South Africans who are affected, but also the South American table grape exporting countries of Chile and Uruguay, as well as Australia.
"South Africa is a relatively new entrant to the Chinese market and in volume terms still ranks behind the other three exporting nations," said SATI's chief executive Willem Bestbier. "It will be a time of uncertainty for all exporters to the region, but we trust that normality will return soon."
Bestbier said that SATI now also has to review its plans to introduce a limited trade promotion for South African table grapes in three regions in China during March. "We are considering the situation and will make a decision this week,' he confirmed.
Elsewhere, South African shippers have said that all parties are acting responsibly on the matter.
"We would not like to add to the problem with irresponsible shipping programmes," outlined one exporter. "South Africa has a smaller crop this year and we have reduced shipments to China while we wait for the situation to return to normal."
Latest reports have indicated that the market is showing a slight improvement this week as Chinese workers return to work after the extended two-week holiday to try and combat the virus.
Asiafruit has been told that because of the week-long closure, containers which arrived in the port of Shanghai during this period can only now be cleared.
The South Africans have said that other markets in the east are still functioning normally at present.
"We are seeing more grapes being shipped to the traditional markets of Europe and the UK where we still have good demand from the start of the season."
Justin Chadwick, CEO of the Citrus Growers' Association (CGA), explained that it was still some time before the South African citrus season gets underway.
"We are hoping that the situation will return to normal before we start, but we suspect that all of us, exporters and importers, will be cautious to commit to too much fruit during the early season,'Chadwick said.
"We are concerned," added Hortgro's Jacques du Preez, "but it is still early in our season and we hope things will return to normal soon."