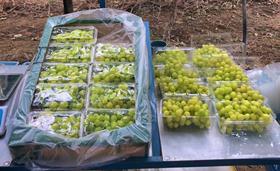 In South Africa's Northern Transvaal region, growers started packing table grapes towards the end of last week, with fruit from the region expected to be shipped to Europe imminently.
The start of the Namibian table grape season is about one week later than expected.

In Namibia, only the earliest vineyard at Solar Grapes has started harvesting this week. Most of these grapes are, however, sold in South Africa's Gauteng region where early season fruit normally fetch high prices.
By next week, Namibia will gain momentum with the first shipments to Europe due at the end of the week.
Between Namibia and South Africa's northern region, just over 16m cartons are expected to be shipped this year.
The other contributor to the early season from Southern Africa, the Orange River, still has at least two weeks to go to the start of the harvest.
If growers repeat last season's crop, it means that another 24m cartons could be added to the early to mid-season.

Growers in both Namibia and South Africa are confident about the season. Although only a small volume is produced in the early part of Aussenkehr in Namibia, experts have said that this part of the lower valley offers great potential for expansion.
"One must remember that these vineyards are a bit further from the river and it is therefore more expensive to get water there," said Andre Vermaak, a well-known Namibian figure.

"Over the past two years we have noticed that the area we call Horse Shoe proves to be earlier than the rest of Aussenkehr, so far ten days to two weeks earlier,' noted says Tanja Vasiljevic of Solar Grapes. 'We believe this could be a result of the area being in a microclimate, with warmer winds coming through the Horse Shoe Valley from the desert and long days of sunshine.'
The grapes being shipped this week will arrive in Europe or the UK within 14 days, arriving around 26 November.
With the season starting now, it means that growers have around four and a half weeks to get their grapes into the pre-Christmas market.