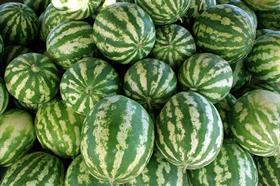 Spain's April fresh produce exports registered year-on-year value growth of 13.5 per cent, coming in at €1.51bn, according to the latest data from the General Directorate of Customs, processed by FEPEX.
While fruit and vegetable value grew, volumes during the month-long period actually fell slightly, by 2 per cent, to 1.1m tonnes.

By category, fruit export volume rose 4 per cent compared to the same month of 2019, amounting to 633,437 tonnes, while value jumped 17 per cent to €862.5m.
Strong performers included watermelon, with a 62 per cent increase in volume to 65,291 tonnes, and stonefruit, with 11,821 tonnes of nectarines (+151 per cent) and 6,874 tonnes of peaches (+15 per cent).

By contrast, strawberries endured a decrease of 13 per cent in volume and 17 per cent in value, to 82,396 tonnes and €140 respectively, attributed by Fepex to the Covid-19 outbreak.
'Given the growth in consumption of all fruits during the pandemic, the demand for strawberries fell sharply, in one of the most important months of the season, seriously affecting producers in Huelva,' Fepex said.
Vegetable exports fell 9 per cent in volume at 521,326 tonnes, while value grew 10 per cent to €647m.
The most exported vegetable in April was lettuce at 101,120 tonnes and €95m, followed by tomatoes (67,445 tonnes, €91 million) and cabbages (64,407 tonnes, €96m).
For the January to April period, the country's fruit and vegetable exports amounted to 5m tonnes, 1.4 per cent more than in the first four months of 2019, at a value of €6bn, up 12 per cent.