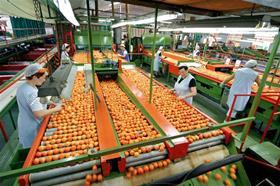 Spanish citrus exporters are turning increasingly to Asian markets as growing competition from Morocco limits their window of opportunity in other non-EU markets such as the US.
Unlike Morocco and other competitors like Mexico, Chile and Peru, the US imposes a tariff on citrus imports from Spain, albeit at a rate of just €0.019 per kg, making Spain less competitive than its rivals.
According to a report in Las Provincias which cites figures from Spain's economic and commercial office in Washington, Spain's share of the US citrus market has been falling steadily in recent years, standing at 29.65 per cent in 2015/16 compared with 34.6 per cent in 2013/14.
During that time, Morocco's market share increased to 40.3 per cent in 2015/16 and continued to climb last season, fuelled in part by the euro-dollar exchange rate.
Spanish citrus exports to the US skyrocketed during the 1980s and as recently as ten years ago, Spain aspired to ship 80,000 tonnes to the US. However last season sendings ended below 20,000 tonnes after falling almost 30 per cent in each of the past two seasons.
While Spanish producers recognise that in terms of volume the US market is marginal compared with Europe, the failure resonates symbolically –all the more so because this is not the first time that Morocco has overtaken Spain in terms of citrus exports.
Vladimir Putin's veto on EU-grown fruits and vegetables has allowed Morocco to dominate the Russian market, while its low production costs have also enabled shippers to gain ground in the European market.
Nevertheless, Spain is making inroads in new markets such as China, South Korea and Australia, which are showing strong demand for Spanish citrus.
According to trade statistics, exports to China have risen from 3,3136 tonnes in 2014/15 to 19,580 tonnes in 2016/17 – a six-fold increase.