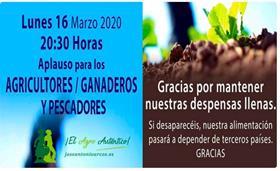 Spanish citizens are being urged to show their appreciation for workers in the agricultural and livestock sector for their role in keeping food supplies flowing as the coronavirus outbreak continues to spread.
With the country under a state of emergency and the public only permitted to leave their homes for work, medical needs or to buy basic goods, messaging groups and social media are replacing social contact.
A message began circulating on Monday is calling on the public to take to their balconies at 20:30 to applaud the efforts of agricultural workers.
It reads: "Thank you for keeping our pantries full. If you disappear, our food will become dependent on third countries."
The move follows similar shows of appreciation for other sectors including health workers and street cleaners.