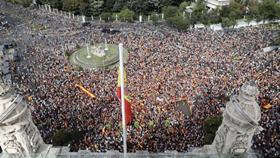 More than 150,000 farmers and agricultural workers from across Spain staged a demonstration in Madrid on Sunday calling for urgent government action in the face of spiralling energy costs and the worsening geopolitical situation.
Murcian producer-exporter association Proexport said the historic event was a call to defend the viability of Spain's rural economy.
Under the slogan 'The rural world awakens', protesters demanded solutions to the worsening crisis as the impact of the war in Ukraine, a nationwide truckers' strike, ongoing drought and the general rise in production costs begin to bite.
Proexport's president, Mariano Zapata, said the sector faced an "unsustainable situation, under the constant threat of cuts in the water from the Tajo-Segura transfer, and of having to compete with products produced outside of Europe, in conditions that put the solvency of companies at risk and that are not comparable with the strict food safety standards in Spain".
The sector is calling for emergency measures in the face of increased production costs, as well as the proper application of the Food Chain Law to guarantee that prices cover production costs; and a fairer CAP and strategic plan to address the loss of income in agriculture and livestock.
Meanwhile, Canary Island banana producers announced on Friday that they are being forced to scale back shipments to the Spanish mainland this week due to port blockages and container shortages caused by the truckers strike.
Europa Press reports that more than 2,500 tonnes of bananas from the islands have been stuck at Spanish ports since last Wednesday due to lorries being unable to cross picket lines.
The islands typically ship more than 1,000 tonnes of bananas a day to the mainland.
As the strike enters its eighth day, losses in the fruit and vegetable sector are mounting.
Miguel Padilla, general secretary of agricultural union COAG has called for an urgent solution to respond to the 'extreme gravity' of the situation.