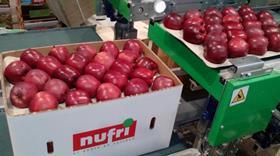 More than two-thirds of apples sold in Spanish supermarkets in the first three months of this year were produced in Spain, according to research from retail consultancy Infolineal.
It revealed that 67 per cent of apples were home grown, compared with 46 per cent last year. In Lleida and Barcelona, where the bulk of production is found, the proportion reached 84 per cent.
Afrucat, the Catalan fruit association, said sales of domestically-grown fruit are historically higher in productive areas and decrease the further away from the origin you go.
In Madrid, Spanish apples accounted for 51 per cent of the total, while in Zaragoza the proportion was 61 per cent.
"One of the reasons for this year's increase could be the situation caused by the Covid-19 pandemic, leading to a greater consumer awareness of local fruit and some specific difficulties for international trade," Afrucat said.
However, a historical review of the data shows that the trend towards national production started before the pandemic. The presence of Spanish apples on supermarket shelves has been increasing by an average of 5 per cent a year since 2017.
In pears, Spanish product made up 83 per cent of overall sales, compared with 74 per cent in 2015.
Afrucat noted that the slower growth was due to "the aggressive strategy of some Northern European competitors in times of overproduction".