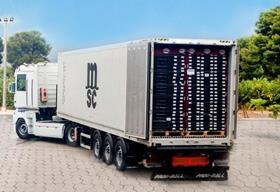 Shipping company MSC has carried out the first shipment of table grapes from Spain to Vietnam.
The seedless grapes were loaded in Murcia in collaboration with the transport company Mosca Marítimo, using Cold Treatment (CT) protocol.
The shipment comes after a trade mission to Vietnam by six Murcian companies earlier this year following the signing of the import protocol last December.
Spain is seen as an increasingly attractive source of supply for table grapes during the June-October window in Vietnam. But it faces strong competition from Californian shippers looking to divert volumes destined for China in light of the ongoing US-Sino trade war.
With the first shipments of Spanish grapes to China due to get underway in early September, once the domestic season starts to wind down, Spanish exporters are optimistic that the political tension between the Trump administration and his Chinese counterparts will work in their favour.
Murcia is the leading table grape exporting region in Spain, accounting for around 70 per cent of the national total. In 2018 shipments reached 116,153 tonnes with a corresponding value of €236m, an increase of 24 per cent and 25 per cent respectively on the previous year, according to Fepex.