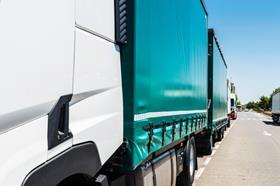 An indefinite strike called by Spanish truckers protesting against high fuel prices is threatening supplies of agricultural products to the national and international markets.
The strike has been called by the Platform for the Defence of Road Transport of Merchandise, representing smaller truck companies and self-employed truckers.
As the stoppage enters its fourth day, there are fears of shortages in supermarkets and wholesale markets of fruit and vegetables, dairy, fish, livestock and other products.
The strike coincides with the end of the winter campaign in Almeria, when the volume of fruit and vegetable traded is very high.
Mercamadrid, the country's biggest wholesale market and the main distribution centre for Spanish produce, received half the volume of fruit and vegetables this Thursday than on a normal day.
Wholesalers are reported to have stockpiled products in the days leading up to the strike, but said shortages were inevitable if the walkout continues.
Sources at Mercabarna, Barcelona's wholesale market, said on Wednesday there were no supply problems "for the moment". But they warned that by the end of the week they would be facing shortages of products such as peppers, aubergines, courgettes and berries coming from the south of Spain.
The strike is also having a knock-on effect on production, with growers being advised not to harvest their crops until the situation has been resolved.
"We're already seeing an accumulation of product in greenhouses,' said Andrés Góngora, provincial secretary of agricultural union COAG.
The Andalusian Federation of Associations of Fruit and Vegetable Traders, Ecohal Andalucía, which accounts for a large proportion of the fruit and vegetables traded in the region, told ABC Sevilla that 17 of its member companies had been forced to suspend all activity.
Since the start of the strike, Ecohal said it had been unable to sell around 1,800 tonnes of produce every day, will losses running into millions of euros.
'If there is no quick solution, there will be shortages on the shelves of many fruits and vegetables in a few days," Ecohal said.
Luis Miguel Fernández Sierra, manager of the Association of Fruit and Vegetable Producer Organisations, Coexphal, told the newspaper: "We have paralysed companies with many kilos of vegetables that are going to waste. These are fresh products and the situation could get much worse if it continues".
At the port of Algeciras in Cádiz, the usual queues of trucks to access the port were absent on Thursday, and although transshipment activity continues in the two terminals, no containers are leaving the port by road. Instead, the port authority is transporting imported products via rail.
The strike is part of an emerging international movement of truckers against inflation and rising fuel prices now accelerated by NATO and European Union sanctions against Russia. Italian truckers are reportedly planning their own nationwide strike on 19 March, while in France, calls are circulating for strike action on 21 March.
Elsewhere, Moroccan truck drivers are currently on a three-day strike protesting fuel prices.