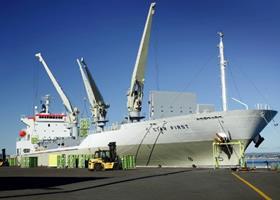 Star Reefers has announced that net income and gross revenue both fell during the first-half of 2009, as the shipping group was hit by the enforced early termination of charter contracts amid a weakened reefer market.
Net income through the six-month period fell to US$19.9m (€14m) from US$32.2m (€22.6m) the previous year, with gross revenue down to US$133m (€93.5m) from US$144m (€101.2m) in 2008, reflecting lower rates and increased capacity resulting from redeliveries that had to be deployed in the weaker spot market, the group said.
Results were hit by Russian group Sunway's termination of charters on five ships after experiencing liquidity problem, with the vessels since returned to Star Reefers.
'The first half of 2009 has not been easy for anyone in the specialised reefer sector,' the group said in a statement.