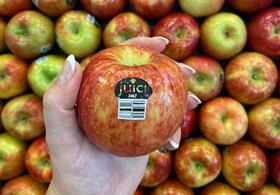 Starr Ranch Growers has donated 49 cartons of fresh Juici apples to Nashville-based The Store.
Founded by Brad and Kimberly Paisley, The Store offers healthy food experiences to those experiencing times of crisis or working towards self-sufficiency.
The Store operates year-round, allowing people to shop for their basic needs with no charge to those referred, or to the people or agencies that send them.
When Washington State-based Starr Ranch Growers learned about The Store's mission and impact within the Nashville community, it was eager to offer its support.
"Giving back to our communities is a key company pillar at Starr Ranch Growers, whether that's our local communities in the Northwest or even across the nation," explained Brett Reasor, chief executive of Starr Ranch Growers.
"The holiday season can be challenging enough for families and individual's struggling with food security, and we believe every little contribution can collectively make a big impact to empower and support those in need."
The donation of Juici apples has been accompanied by a festive merchandise display, complete with informational cards, graphics and stickers to hand out to guests.
"The Store is so grateful for the generous support of Starr Ranch Growers and their Juci donation," said Mari Clare Derrick, volunteer coordinator for The Store. "Access to fresh produce is a key element in our mission of serving others with dignity, and donations like this make it possible for us to consistently provide families with fresh fruits."