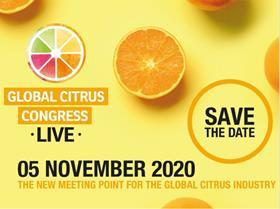 More than 1,000 people have signed up to the first-ever Global Citrus Congress Live, which takes place on Thursday 5 November at 3pm CET.
This free-to-register online event, organised by Fruitnet Media International and the World Citrus Organisation and supported by CIRAD, will tackle some of the biggest issues facing suppliers under the overarching theme: Making citrus more sustainable.
An engaging mix of presentations, interviews, in-depth analysis and panel discussions will be spread across three sessions covering key aspects of the citrus trade.
As well as exploring the key consumption trends driving global citrus demand, we look at what the citrus industry can learn from other produce categories when it comes to promoting the fruit's health and nutritional benefits in order to stimulate consumption, and how innovation will deliver better quality and more sustainable supply in the coming years.
Global Citrus Congress Live brings together all players in the global supply chain of fresh citrus to identify and develop strategies to meet growing international demand.
Register at www.citruscongress.com