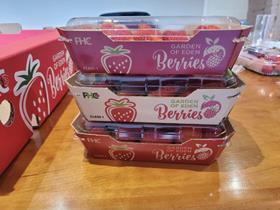 In recent years South Africa has made tremendous strides in its production of blueberries. The other member of the berry category, strawberries, has been somewhat in the background.
This is expected to change in the years ahead with new cultivars and growing techniques being promoted, meaning strawberries may soon become a key part of the country's berry portfolio.

The strawberry renaissance is almost entirely due to the endeavors of a Southern Cape company. Professional Horticultural Consulting (PHC), which started up 16 years ago in George along the southern tip of Africa, is mainly responsible for the fact that the country is now becoming a yearlong supplier of strawberries.
The company is also playing a pioneering role in searching for new varieties, supplying plant material to producers in Southern Africa and developing an export business.
CEO Gavin Linsley-Noakes said PHC now had several production units in different climatic conditions near George in the Southern Cape and this was the main reason the company could supply strawberries year-round to the South African trade.
"We are now exporting some 300 tonnes of our total production of 1,500 tonnes of strawberries,' he said. 'Furthermore, the company supplies about 12m strawberry tree plants from 50ha of fruit fields and a ten hectare nursery. This enables all producers in Southern Africa to become part of the game and we are therefore very bullish about the future of the business in South Africa.'

Linsley-Noakes described the export market as a game-changer for the South African industry. At this stage the country exports most of its fruit during the period September-November before Egyptian producers enter the market.
"The three growing locations are at different elevations, namely Brandwag near Mossel Bay at 10m altitude, our farm at George at 280m altitude and Waboomskraal, just across the Outeniqua Mountains from George, at 700m elevation,' he explained. 'These differences present different climates and growing conditions, enabling PHC to produce strawberries all year-round.
"As CEO of the company I travel extensively in the important strawberry growing regions of the world and I have contact with all of the important strawberry breeders,' Linsley-Noakes continued. "We import all of the promising new varieties and evaluate them extensively on our own as well as on clients' farms around the country. Once the new plant material has been released from its compulsory one-year quarantine period, we have the facilities (Nucleus and Foundation houses) to multiply the promising varieties very rapidly, vegetatively, for ourselves and our clients.
"We have strawberry varieties ranging from infra short day, short day, facultative long day and day-neutral varieties that can suit most of the strawberry growing regions of South Africa,' he said. 'The infra short day and short-day varieties suit the warmer growing regions and is harvested mainly in winter and spring, while the others do better in cooler locations and bear in spring and summer."
PHC activities benefit growers and countries across Southern Africa, Linsley-Noakes confirmed. "We supply plant material to Namibia, Angola, Botswana, Zimbabwe, Zambia, Swaziland, Mozambique and Kenya. Except for Zimbabwe, which exports fruit to South Africa and the Middle East, all the other Southern African countries market the fruit within their own borders. While PHC does not assist with marketing, we do consult to our clients and train their technical staff."
The export marketing window for South African strawberries falls within the Northern Hemisphere winter when fruit is mainly available there only from heated greenhouses. "Exports commence in June and end in mid-November, when the large Egyptian strawberry industry commences production."

PHC exports to the Middle and Far-East. "We can get our fruit to the Dubai supermarkets quicker than we can get them to Johannesburg. Fruit is harvested every day, packed and transported to Cape Town airport the same night and is on the early morning flight to the Middle and Far-East."
Covid-19 has been a huge challenge because of the lack of flights out of Cape Town and so fruit had to be transported to OR Tambo airport in Johannesburg.
"The Northern Hemisphere market is huge and there are plenty of opportunities for expansion. That is why we see such great opportunities for South African strawberries," he concluded.