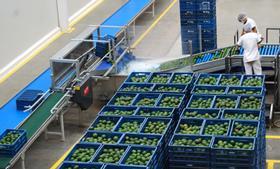 Colombian Hass avocado exports grew 35 per cent in volume and 63 per cent in value in the first nine months of 2021 compared to the year-earlier period.
The figures from CorpoHass, show that 69,629 tonnes of avocados were shipped between January and September this year with a value of US$156.65m. This compares to shipments of 51,565 tonnes worth US$96.28m in the same period of 2020. The steep rise in the value of exports was, in large part, fuelled by the strength of the dollar.
The data was released ahead of the country's annual industry conference and trade show Terrotirio Aguacate, which takes place on 2-3 December in Medellín.
In just over a decade, Colombia has carved out a sizeable position in the global avocado trade. In the last four years alone, it has opened up six new markets: the US, Argentina, China, Japan, Peru, South Korea, and is in the process of negotiating access to the Chilean market.
"Hass avocados are now the fourth biggest agricultural export in Colombia behind coffee, bananas and flowers," said Jorge Restrepo, director of CorpoHass.
In country terms, the Netherlands is the biggest single market, taking 37,024 tonnes between January and September of this year. It is followed by the UK with 9,616, tonnes and Spain with 8,221 tonnes.