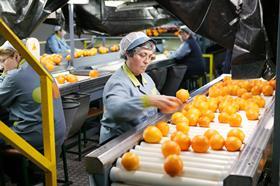 Spanish citrus exports grew by 4.63 per cent in volume and 1.32 per cent in value between September 2020 and February 2021 compared with the year-earlier period.
The results are encouraging, as they show an uptick on the sector's performance in the first half of the 2019/20 campaign, one of the most successful in recent history for Spain.
Within the category, exports of mandarins and grapefruit saw increases of 11.24 per cent and 15.60 per cent respectively in volume, while orange were down 1.78 per cent and lemon exports virtually unchanged (-0.10 per cent).
By value, oranges saw the biggest increase (9.08 per cent), then lemons (4.11 per cent) and grapefruit (2.15 per cent). However, the value of mandarin exports fell by 4.99 per cent in the first half of the season.
A breakdown of the data by months shows that prices for oranges have been consistently above last season throughout the season so far at between €0.05 and €0.07 per kg.
The pattern for mandarins shows that while in September and October the monthly prices were higher than last season, the inverse was the case in December. From January onwards, prices rebounded as Nadorcott, Tango and Orri started to come on stream.
In the case of lemons, prices in the first four months were slightly higher than last season, in January they were equal and in February they clearly fell.
It is important to note that the export figures do not reflect the net results for producers, as they do not take into account other factors such as productivity and processing prices.
This is an extract from an article first published in Valencia Fruits.