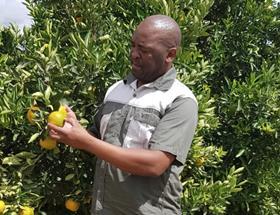 The discussion about land in South Africa is intensifying with looming changes to article 25 of the country's constitution being debated.
As a result, various sectors of the fresh produce business are reporting great progress when it comes to creating new opportunities for black growers.
An example of this is the announcement by the country's citrus growers' association, CGA, with its Grower Development Company (GDC), that black citrus producers increased their production by 40 per cent during 2020.
"Several farms and black growers have increased output by over 40,000 cartons – with one black grower increasing production by 99,000 cartons in just one year," the CGA stated..

CGA GDC general manager Lukhanyo Nkombisa said harvest records revealed South African black citrus growers had increased output to domestic markets by 55 per cent since 2019.
Last year, black citrus growers provided over 400,000 cartons of fruit to South African grocery stores and supermarkets. In addition, more than 75 per cent of black citrus growers in South Africa exported their produce to global markets.
Great progress
The announcement boosts the argument in agricultural circles that there is no need for constitutional changes in terms of land ownership, rather that effective use of government resources and allocation of land to black farmers is enough to effect major transformation.
While this news is unlikely to change people's minds, it nevertheless shows that over time great progress has been made in creating new opportunities for black growers and transformation generally in the country.

The issue of land is unlikely to become less emotive, even if the proposed changes to the constitution are made. These changes, if implemented, are likely to be contested for years to come.
It is therefore worth focusing on the significant successes quietly achieved by the fruit sector. Nkombisa said that the successes in citrus were testament to the groundwork laid over the last decade.
"The citrus industry has spent over ten years creating structures such as the GDC to assist, guide and advise the CGA-GDC on the needs of black citrus growers, so that it may provide them with the support they need to thrive,' Nkombisa noted. 'The CGDC is run by black producers who ensure that the citrus industry is committed to supporting the initiatives that will result in the establishment of an inclusive citrus industry, with a sound transformation agenda.'
The CGA statement revealed that the transformation initiatives were partly made possible by the new statutory export citrus levy, gazetted In December last year by minister Thoko Didiza.
"The levy will be funded by 1,250 citrus growers over the next four years with 20 per cent of the new levy being allocated to the development of black citrus growers,' the CGA added. 'This funding will be invested in the CGA's recently finalised four-year Transformation Plan, which will be implemented in 2021 through the CGA-GDC and Citrus Academy."