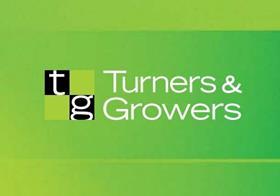 New Zealand produce group Turners & Growers has today completed a series of changes to its management ranks and a major restructure of its corporate framework, the result of a strategic review initiated by the group's new CEO Geoff Hipkins and majority shareholder Baywa.
Critically, the restructure will see the operations of Turners & Growers' (T&G) subsidiary Delica rolled into sister-company Enza, which will now become the primary face of the group's international operations.
The changes also mean several new executive appointments, and the departure of a number of industry veterans from the T&G ranks such as Alistair Petrie.
"It signals another clear step forward following the Baywa acquisition," Hipkins explained to Asiafruit in an exclusive interview this morning.
"It reinforces some of the signals sent by our chairman Klaus Lutz at the time of the Baywa purchase; the focus is on our key business and rationalisation."
Restructure
Rationalisation of the T&G group's sprawling corporate framework has been the driving force behind the restructure, as well as a refocusing on the company's core businesses, explained Hipkins. The shift has been guided by a strategic review begun earlier this year.
"Instead of 13 separate divisions,
it's all been broken down into a few key functions," Hipkins said. "It's a completely new way forward for T&G, from running the companies as separate silos to joining them together to have an appropriate focus on our core businesses such as apples.
"The business has `now` been divided into products, and then operations, and then the two key sales functions, domestic and international. It breaks the mould of the old T&G operation. It's all about efficiency and coordination of functions, and starting to get some scale recognition into critical functions like logistics. It's a drive for rationalisation.
"It's certainly an interesting time."
Enza will become the group's "flagship" and the key point of contact in all international markets, with Delica collapsed into the Enza operations.
T&G's New Zealand citrus, kiwifruit and blueberry producer subsidiary Kerifresh will also be rolled into the broader company structure, with its various operations parcelled out under the new division of functions.
The execution of the structural changes has already begun, with the changes being communicated to staff and the new executives organising their separate teams and organisational frameworks.
"With fair winds, we're hoping to have all those changes in place this side of Christmas," Hipkins stated. "We certainly hope to get the majority of it set up and done before the end of the year."
Executive changes
The restructure includes four key executive changes, according to Hipkins.
Alastair Hulbert, previously general manager of Delica NZ, has stepped up into a new international marketing and sales role, a move just finalised on Monday. "We were really trying to get that high calibre candidate into that international role, and Alastair fits that," said Hipkins.
Leveraging his long experience with Delica, Hulbert will also act as a "key facilitator" for the company's transition under the Enza banner.
Replacing Alistair Petrie as general manager of the New Zealand market is Colin Lyford, former general manager of T&G's tomato unit Status Produce. Lyford left that role earlier in the year – replaced by Paul Pavletich – to work on T&G's strategic review, before stepping into the domestic market role.
"Colin made significant positive changes at Status, and we think he can improve things in the domestic business," Hipkins predicted.
Tony Motion, most recently Zespri's regional manager for Australasia and North America, has been appointed as the general manager of T&G's apple business.
Damien Gibson, currently Auckland divisional manager at Freshmax, will also join T&G as the general manager of diversified products, which covers all other products excluding apples. Gibson is currently finalising his role at Freshmax before joining T&G.
Long-time Delica and Enza figure Snow Hardy has stepped down from his role as Enza general manager, with that role now split between chief operating officer Philipp Wahl who will take care of Enza's operations, Motion on the apple side, and Gibson on the remaining products. Hardy remains with T&G, and is looking at opportunities within the new organisational structure, according to Hipkins.
Alan Kerr has also stepped down from his role as general manager of Kerifresh as part of the company's absorption into the greater T&G/Enza structure.
Chief financial officer Harald Hamster-Egerer and chief operating officer Philipp Wahl, who joined T&G from majority stockholder Baywa in April this year, and recently appointed chief human resources officer Rowan Tonkin will stay in their current positions.
There have also been changes under the executive level, and Hipkins said the company has taken the restructure as an opportunity "to look at competence and capacity going forward".
That has meant a number of other staff departures. Asiafruit understands development manager Murray Malone has left the company, as have Terry Brown and Jan Thompson of the marketing team. The appointment of a replacement global marketing manager is still underway, according to Hipkins.
Talent pool
The departure of veteran figures like Alistair Petrie and Snow Hardy from senior management positions will deprive T&G of their decades of experience in the fresh produce industry. That loss comes after majority shareholder Baywa's stated aim to use T&G's networks and experience in Asia to expand its business in the region.
Replacing that experience has not been an easy proposition, according to Hipkins.
"I think as a generalisation, the talent pool in New Zealand is somewhat limited," he said. "It's always a task to get the right people. It's a difficult job, but you have to get it right, and I think we have got that right with these appointments."