The South African citrus brand has won a leading award in what is a tough Asian market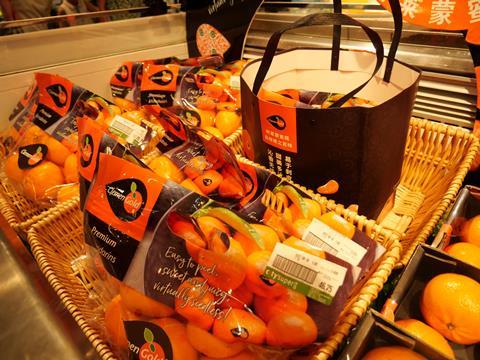 South African citrus brand ClemenGold was recognised for its success when it landed the Marketing Campaign of the Year at the recent Asia Fruit Awards, for its marketing of mandarins in China.
This recognition is not to be taken lightly, with China being the world's biggest producer of citrus at nearly 39m tonnes, including its own huge mandarin crop.
Compare this with South Africa's more modest 2.8m tonnes, which places it in 12th position in the world, according to the country's Citrus Growers Association.
In terms of exports, however, South Africa is second only to Spain, and is fast catching up with the European country.
During the northern winter of this year, China's mandarin yield hit 27m tonnes according to the World Citrus Organisation, accounting for 68 per cent of global output.
The sales in Southeast Asia and the Far East are vitally important for the success of the citrus export industry, with around 21 per cent of South Africa's total export volume delivered at an estimated sales value in excess of R5bn.
Adéle Ackermann, marketing manager at Fruitalyst which manages the ClemenGold brand, said that its long-term success relied on quality fruit and smooth logistics. "
"It had more to do with strong branding, backed by marketing excellence and the strength of the complete value chain supporting the process," she explained.
Deliver a consistent quality in taste to retailers and consumers, was crucial, she continued, as was having a visible brand.
"This was especially important in a challenging citrus year like 2022, where supply campaigns, backed by branding and marketing investment, had a significant impact."
Abs van Rooyen, founder of the ANB Group, the holding company for Fruitalyst, emphasised innovation and "cutting-edge technology" in the success in Asia.
Most of the group's activities are to equip growers to compete in a globalised, competitive industry, he said.
"This extends from spearheading the introduction of leading global varieties into the industry, to creating a reliable and scaled source of quality plant material, to pioneering new ways of growing, to establishing a consolidated marketing platform that affords partner growers with secure shelf-space and market positioning."
Ackermann added that the company was focused on "pockets of opportunity" to persuade customers in Asia to deliberately choose South African brands.
"Our brands and their marketing messages are tailor-made to speak to different cultures globally," she said.