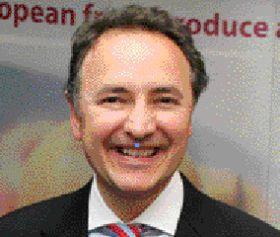 Ramón Rey is marketing and import director of Grupo Eurobanan, the leading fresh produce distributor in Spain. He was also recently elected as the new president of Freshfel Europe.
Fruitnet: How did you first get involved in the fresh produce business?

RR: My grandfather was a wholesaler in Madrid. My first hands-on experience in the fruit industry was during the holidays working with my father in the Legazpi market to earn a little pocket money.
When did you start working for Eurobanan?

RR: I actually started 25 years ago. However, what is now ARC Eurobanan was only created five years ago.

What other roles have you had at the company?

RR: I started practically from the bottom, as a cashier in the wholesale market, and was involved in imports and sales of pineapples from the Ivory Coast. Later on, I designed the labelling for pre-packaging and the company's brands. My main role was the supply of any product not produced on Spanish soil and all aspects of the marketing mix.

Where did you work before that?

RR: Before entering the family business, I worked for two years at a state-owned company called Mercorsa, which was the main Spanish fresh produce exporter in Almería and Granada in the 1970s. I developed strawberry exports from Huelva and was in charge of onion exports from the Toledo area.

As the new president of Freshfel Europe, what do you hope to achieve in the next few years?

RR: My aim is to give the final consumer a clear image of the organisation and of the fresh produce industry as a whole. I also want to improve the commercial relationship between Europe and Russia, and see the pending harmonisation process through to its conclusion. One of my main objectives will be to improve communication within the organisation.

Will you be retaining all of your current responsibilities at Eurobanan?

RR: My day-to-day work at Eurobanan will be unaffected. I am very fortunate to have Philippe Binard as general delegate, as he has extraordinary dedication. Without him and his team, the whole operation would not work so efficiently.

What do you see as the biggest challenge facing the fresh produce industry?

RR: I believe the main challenge is balance. We need to find a way of producing in a sustainable and efficient manner, while improving taste and shelf-life. We also need to be able to offer the product at an attractive price to the final consumer, with the aim of developing customer loyalty for the coming generations.

Do you prefer conducting your business over the phone or via email, or both?

RR: Obviously meeting someone face to face has many advantages, but it is not always possible. After that I prefer the telephone.

How much travelling is involved in your work?

RR: If you want to be connected to the fresh produce industry, travelling is essential to get see things first-hand. I travel around 90-140 days per year.

Where have you travelled to recently and where are you going to next?

RR: Outside Europe, my last trip was to South Africa, and next week I will be travelling to Brazil and Uruguay.

What do you love in particular about your job?

RR: I enjoy communicating with many people from a range of different backgrounds and cultures.

What do you do to unwind after a tough day at work?

RR: My family enables me to disconnect from a tough day at work. I also enjoy a nice walk in the countryside.