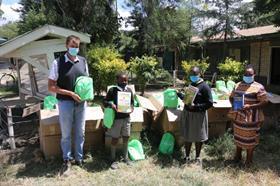 Children at the Maua School in Kenya's South Lakes Region have been enjoying the arrival of new school resources, textbooks and playground equipment donated by Tenderstem broccoli.
Tenderstem licensee Flamingo, which has farms in Kenya, has been working closely with the school since 2018 to deliver a refurbishment of the buildings and to sponsor the teachers as well as assisting with an extensive programme of CSR measures.
These measures include medical and screening programmes, the provision of nutritious school meals and environmental activities, all designed to help improve the wellbeing and education of the pickers' community.
"It's an important part of our operation in Kenya to support the local communities,' said Flamingo's group technical and procurement director Ian Michell. 'We work closely with teachers and community leaders to make sure our contributions are just what is needed in these times of need, especially now schools are not returning until January 2021 due to Covid-19.
'In this case Tenderstem has provided materials that will help children both mentally and physically whilst they are at home and help them maintain a level of educational support,' Michell added.
There are 740 children of both primary and secondary age at the Maua School, which is situated near Flamingo's Kingfisher Farm, one of the main producers of Tenderstem broccoli in Kenya.
"We are pleased to be able to help Flamingo in their work to support the community infrastructure for pickers who work on the farms that grow Tenderstem broccoli in Kenya,' said Tenderstem's marketing manager Lacey Bradshaw. 'It's great to see the children enjoying their new school equipment and benefitting from long-term investment in their community school."