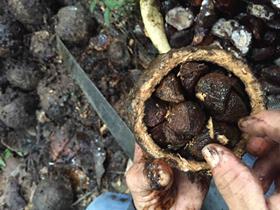 The UK's largest retailer Tesco has marked the country's National Nut Day by focusing attention on the work it does to source organic, Fairtrade brazil nuts from Bolivia.
Liberation Foods, the UK's only grower-owned Fairtrade nut company and Europe's primary importer and distributor of Fairtrade nuts, has supplied Tesco with this particular product line since 2006 and, according to Tesco's group quality director Tim Smith, the retailer now sells over 300,000 individual packs every year.
"Since 2006, Liberation have been a key partner for us in growing this vitally important category," he commented. "It's built on a long-term trust, all the way up the supply chain back to Bolivia, where we know the growers and the gatherers are benefiting from the Fairtrade way of doing business. It's a great virtuous circle."
Liberation Foods chairman Richard Cooper recently visited the tiny community of Puerto Perez in the Bolivian Amazon rainforest, viewing firsthand the work done to supply Tesco and assisting a film crew which captured the product's journey from the forest all the way to the UK.
"A little known fact about Brazil nuts is that they are from a small stretch of the Amazon covering Peru, Brazil and Bolivia. Well, I say small – it's actually 9m hectares," Cooper wrote in a guest post on Tesco's Talking Shop blog.
"Just 6,000 families live in the Bolivian rainforest and harvest the nuts when they've been shed from the trees as nature intended. The 'coconuts' are then cut open individually by hand to release the brazil nuts in their shells.
"The nuts in shell are then hauled in 70kg sacks – imagine 70 bags of sugar on your back – to be sorted and dried. Next they are stacked in small boats to be transported down the Madre de Dios river for further sorting, selection, cleaning and final packing for export."