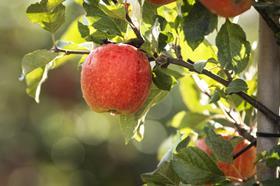 Tessa, the new European-grown club apple, has reported a successful first season, in which 4,000 tonnes of the variety were harvested and sold following an extensive marketing campaign across Europe.
Tessa is the brand name for the apple club variety Fengapi, a cross between Gala and Pink Rose. It is described as having a sweet taste, crunchy bite, high firmness and characteristic reddish colour, "which fits perfectly with the current consumer patterns that are shifting to crunchy, sweet apples".
According to its developers, Feno, the variety is easy to grow and has an excellent shelf-life, guaranteeing a uniform fruit quality throughout the season.
It is grown by a partner network in European countries, including Royal FruitMasters (Netherlands), Melinda/La Trentina (Italy), AFG (Austria), Fructícola Empordà (Spain), Brandenburger Fruchthandel (Germany) and VM Marketing (Italy).
Further negotiations are currently underway with growers in Germany, France, the US and in the Southern Hemisphere.
The new European campaign will focus on the "Sweet but no softy" slogan and introduces the variety's brand new website. Tessa likes to say it like it is, refreshes the senses and tickles your thoughts. This mentality comes to life in the key visual and intrinsic message she has in store. Tough on the outside, sweet on the inside. Just the right mindset for biting through a busy day.
Arno überbacher, director of the Tessa project, said the company is very satisfied with the results it has achieved so far. "Tessa celebrated a successful year as a newcomer among the club apples in 2021," he said.
"We want to show that we can meet the demand and therefore want to constantly expand, annually by 80ha of cultivation area. A harvest of 25,000 tonnes is to be achieved by 2025." Outside Europe, the club variety apple had a successful year in the Middle East and Asia in 2021.
The first official launch event for Tessa was held at Fruit Logistica 2020. Today the brand is focusing on building a joint Europe-wide presence with several actions and marketing activities.
Local campaigns are planned in Spain, Germany, Netherlands, Italy and Austria, with substantial investments made to bring the variety to the attention of consumers.
In the Netherlands a kick-off harvest party was held last year, along with in-store tastings = and a media and influencer campaign.
In Germany and Austria, the campaign centred on B2B activities such as interviews, as well lifestyle advertorials, POS and influencer activations.
In addition, Austria also invested in a radio campaign. This year, Tessa will once again be present at Fruit Logistica in Berlin, and can be found at Hall 2.2, stand D-11.