Tive Tag breaks new ground in cold chain visibility and becomes latest addition to Tive's portfolio of award-winning cold chain innovations
Tive, a global supply chain and logistics technology specialist, has launched Tive Tag, a long-life cloud-enabled temperature logger in the form factor of a flexible shipping label.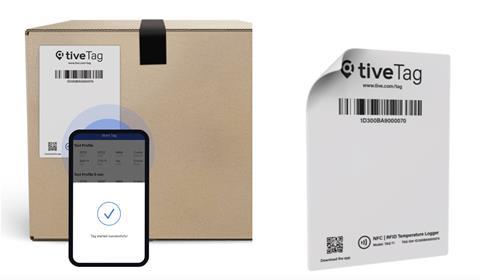 Designed to break price point barriers, the Tive Tag provides a solution for first and last-mile deliveries, warehouse operations, as well as over the road, rail, air, and ocean cold chain management.
The Tive Tag temperature logger comes in the form of a thin, flexible shipping label. It is half the cost of a conventional logger, can be reused multiple times and lasts for up to a year thanks to a non-lithium earth-friendly battery.
It has been developed as a simple solution for shippers, retailers, cold storage operators, and last mile delivery, providing customers with an audit trail for compliance. The tag is airfreight safe and supports ESG initiatives with minimal electronic waste.
Tive Tag can be started and stopped to define individual trips. It can be stuck on a reusable plastic container (RPC), a carton, or a box, providing proof of delivery and proof the cold chain was maintained.
"I'm really excited to show the Tive Tag to the world. We are committed to pushing the limits of possible, to deliver cutting edge products and services to global supply chain managers," said Krenar Komoni, Tive's founder and CEO.
"Seamless like a shipping label, the Tive Tag puts amazing tech in the palm of your hand at a price the market has never seen. Customers have been searching for a last mile solution, and cost has always been the barrier. The Tive Tag is the answer.