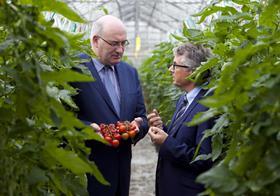 Prior to taking on his new role as EU commissioner for agriculture and rural development, Phil Hogan this week visited Irish fresh produce multinational Total Produce to discuss the opportunities and challenges facing the industry.
Hogan took a tour of Total Produce grower Jim O'Rourke's glasshouses in Swords, County Dublin, as well as the group's central distribution centre in the town.
"The impressive growth of Total Produce's business illustrates the potential of our indigenous agri-food industry and the opportunities inherent across the broader European agricultural sector and the horticultural sector in particular,' said Hogan.
Total Produce chief executive Rory Byrne, who accompanied Hogan on the tour, commented: 'Mr Hogan assumes his portfolio at a time of both opportunities and challenges across the European fresh produce sector. We wish him well in his role over the next five years.'
The two equally discussed the wider European fresh produce industry, the broader economic and environmental factors currently driving the sector and the implications for stakeholders across the supply chain.